Born into a life of privilege and secrets, Nora Blakely has everything any nineteen-year-old girl could desire. She's an accomplished pianist, a Texas beauty queen, and on her way to Princeton after high school. She's perfect…
Leaving behind her million-dollar mansion and Jimmy Choos, she becomes a girl hell-bent on pushing the limits with alcohol, drugs, and meaningless sex.
Then she meets her soulmate. But he doesn't want her.
When it comes to girls, twenty-five-year-old Leo Tate has one rule: never fall in love. His gym and his brother are all he cares about...until he meets Nora. He resists the pull of their attraction, hung up on their six year age difference.
As they struggle to stay away from each other, secrets will be revealed, tempers will flare, and hearts will be broken.
Welcome to Briarcrest Academy…where sometimes, the best things in life are Very Bad Things.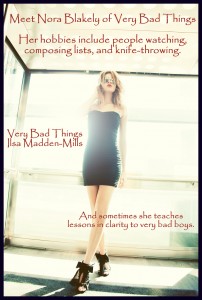 "Drop the paint and turn around slowly with your hands in the air." The loud command was said with a deep voice. "I've got a gun, so move nice and slow."
I bent over and placed the can on the pavement. I started to turn when— "I said put your hands in the air!" he yelled.
I yanked my hands up and eased around to face the owner of the voice.
He was about ten feet away from me, standing six feet and then some. He was missing a shirt but wearing a pair of black athletic shorts and flip-flops. Judging by his disheveled dirty blond hair and bloodthirsty eyes, I'd have to guess this might be the owner of the Escalade.
And I'd just woken him up.
He came closer to me, and my eyes were immediately drawn to his green-and-blue dragon tattoo. Like a giant snake, the scaled body of the dragon wrapped around his forearm and bicep with the neck coming down from his shoulder and the head resting on his broad chest. Red flames poured from its mouth, between laser sharp teeth.
This guy looked medieval.
So, I squinted and pictured him as a rugged Viking, wearing a horned helmet and gripping a spear instead of a gun. Maybe holding a shield instead of his flashlight and definitely wearing some of those laced-up leather boots. The word berserker (from round two of the famous spelling bee) came to mind, and I rolled the syllables around my tongue . . . ber-serk-er. Yep, that was him alright: one pissed off Norse warrior.
I grinned at my amazing analogy because, well, I'd had too much to drink.
"You think this is funny, son?" he snapped.
I shook my head, suddenly aware that some guy was pointing a gun at me.
And he thought I was a boy
.
Jenn says:
I was so over the moon ecstatic to receive an ARC of Very Bad Things for an honest review. Like jumping up and down happy!! There has been a lot of buzz with this book and sometimes the book does not live up to the hype. Will it be as amazing as the author and early reviewers says it will be? With this one I will tell you that you will not be disappointed! This lived up to all it promised and MORE! I so feel in love with Leo Tate and his brother Sebastian. This is a true story about finding your own path and not allowing those to sculpt and share you in to what they think you should be. I would highly recommend this book and it should be on top of everyone's TBR!! If you are reading this and you haven't read it yet… go get it and make it your next read! That's how much I loved it! This book is told from a dual POV switching between the female and male leads.

So we start with Nora Blakely, she has become the epitome of perfect that her mother always wanted her to be. She is intelligent, she is beautiful, but deep down she feels empty. Sure she is so smart she won the national spelling bee, she is so beautiful that she has won pageants, she is so talented she is an accomplished pianist but these were things her mother pushed to do. She needs to be perfect and be the show daughter. We start with Nora giving the "Welcome to Briarcrest Academy" speech to incoming students when she has something she has never had before, a panic attack. This is when I knew I would love this book! She gets up on stage and says nothing… then blurts out
"Fuck Briarcrest Academy, and fuck you all!"
OMG loved it! This is my kind of girl!! She knows her mother's wrath will come but at this point she didn't care anymore. In the audience that day is Leo Tate. He's there with his brother who will be attending Briarcrest but has an instant pull to Nora. He tries to deny it as he is older around 25 and Nora is a high school student. When they are both leaving the school, they make eye contact and Leo is enthralled with her but since she is younger he ignores the pull he has to her.

Due to Nora's little outburst, she is severely punished but it's to the point where she wants nothing to do with her Mother. That has always been more of a house of horrors than a home as there are secrets that come with being there. Her mother is the queen bitch and more than one occasion I wanted to drop kick her in the throat!! She is a news anchor and a local TV station and she cares more about her appearance then her family. It's infuriating how she is!! Nora ends up moving out and moving in with her Aunt and helps out in the Bakery she owns. One night Nora decides to become rebellious after drinking her sorrows away and she vandalizes an Escalade. Little did she know this Escalade belongs to that of Leo Tate. He is in the process of opening a gym across from her aunt's bakery. He catches her in the act and when he discovers who she was, he takes her in and to sober her up. They end up talking all night and little by little Leo finds his guard coming down. He also finds out that even though she is in high school, she is 18 almost 19… not the young one he thought she was.

Leo Tate… sigh… what's not to love about him! He is musician with tattoos that everyone swoons over. His parents were killed in an accident and he was forced to become guardian to his younger brother Sebastian. He doesn't do relationships. He does not want the attachment and heartbreak that goes with them. At a young age is a successful business and has opened a string of health clubs or gyms in California. Looking for a change, they move to Dallas. Even though he has the gym he also formed a band as music is what he enjoys. He discovers that Nora plays piano and invites her to a rehearsal. There he sees there is more to Nora than just a pretty face as she assists with the existing keyboard player that has autism. He discovers that he labeled her too quickly as being the spoiled rich girl and not the caring and kind person she is.
"This was no lukewarm, vanilla feeling. It was a madness, making me feel like a week-kneed boy on his first date, like I had fucking butterflies in my stomach when I pictured her face. She consumed my, my head my heart, my skin, my blood, my muscles, everything aching for the physical touch of her body against mine."
The more time Leo and Nora spend together the more his walls start to break down. Nora is also on her own path of self-discovery. She is doing things she would never imagine. She dyes her hair from blonde to red and gets a very large tattoo of angel wings on her back to signify her freedom. Even though her mother has disowned her, her family is still a source of heartache. Her brother has a secret that he keeps dangling in front of her that threatens to expose just what the secret is. Can she confront her brother and deal with those secrets that seem to haunt her??? Can Leo and Nora build a relationship even though he is firm about his "no relationship" status?
"And when I look into your eyes, I can see all the way to your heart, to the strong beautiful woman you are."
This is such a fantastic book about self-discovery and building your own self-worth and learning to love even when its least expected. I so loved every second of this book and cannot wait to see what else the author has in store for us!


Jennifer's Dream Cast
Ilsa Madden-Mills is a loving wife and mother, a loyal friend, and a teacher. When all that is done, she writes. Obsessively.
She spends her days with two small kids, a neurotic cat, and her Viking husband. She collects magnets and rarely cooks except to bake her own pretzels.
When she's not typing away at a story, you can find her drinking too much Diet Coke, jamming out to Pink, or checking on her carefully maintained chocolate stash.
She loves to hear from from fans and fellow authors.
Check her out on Facebook or her author website.
Enter to Win!
a Rafflecopter giveaway