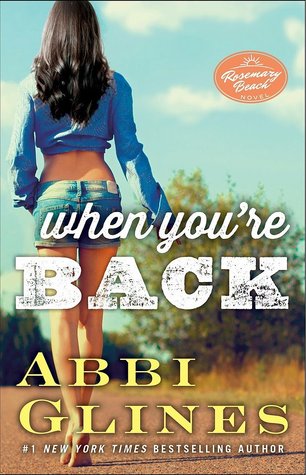 A Rosemary Beach Novel
From #1 New York Times bestselling author Abbi Glines comes the next new adult novel in her beloved Rosemary Beach series, which continues the story of Mase and Reese from When I'm Gone.
"She was where my home would always be. It was time I took the next step and proved to her I was all in. Forever."
A chance meeting in Rosemary Beach has turned into a fairy-tale romance as Reese prepares to move in with Mase on his family ranch in Texas. With the loving support of the Colts, and her recent discovery that she has family of her own, Reese can finally move on from the dark horrors of her past and into a bright future.
But Aida isn't going to let that happen. The beautiful blonde has been raised to think of Mase as her cousin, but it's clear to Reese that Aida doesn't love Mase like a cousin should.
And then there's Captain, the inescapable stranger who has connections in Dallas and Rosemary Beach—and who conveniently shows up wherever Reese happens to be. Hot, mysterious, and plain-speaking, Captain isn't afraid to tell Reese what he thinks about Mase—and how he feels about her.
As the competition for Mase and Reese's hearts heats up, Reese's past begins to unravel, illuminating shocking truths that will forever change the lives of the happy couple—and set the final stories of Rosemary Beach in motion.
SHANNON'S 3.5 STAR REVIEW:
I absolutely love all of Abbi's books and usually it's the main guy that steals my heart. In this one, though, it was a secondary character, Captain. I hope he get his own book because I would love to know how many blocks that cowboy has been around. He drew me in more so that Mase and Reese in this book.
The story picks up when Reese moves to Texas to be with Mase. Little does she know there are outside forces working to keep them apart. She feels threatened and defeated in the first half of the book because she doesn't feel as though she is good enough for Mase or good enough to be in his circle. Mase, of course, is oblivious to most of this but he eventually gets the hint and tries to make more of an effort.

Reese gained so much power and confidence in first book but in this one it was like she regressed 100 fold. It really made me mad. Mase was his more alpha in this book which I did absolutely adore. He and Kiro made some strides in their relationship but Harlow, sweet Harlow, she needs to get a stronger backbone. I love her but she needs to toughen up. I did love getting to keep with her and Grant and Rush and Blair. I love how Abbi always ties in the other couples in her new releases. I just can't help but feel this book wasn't anything but filler for the most part. I love Abbi and all of her books but this one just didn't do it for me.
Book provided by Atria for honest review.
ABOUT ABBI GLINES:
Abbi Glines is the New York Times, USA TODAY, and Wall Street Journal bestselling author of the Rosemary Beach, Sea Breeze, Vincent Boys, and Existence series. A devoted book lover, Abbi lives with her family in Alabama. She maintains a Twitter addiction at @AbbiGlines and can also be found at Facebook.com/AbbiGlinesAuthor and AbbiGlines.com.
FIND ABBI ONLINE:
Website:
www.AbbiGlines.com/
Facebook: Facebook.com/AbbiGlinesAuthor
Twitter: @AbbiGlines
Instagram: @AbbiGlines
WHEN YOU'RE BACK By Abbi Glines
Atria Books | 256 pages | ISBN 9781476776118 | June 30, 2015 | $15.00
Order the Paperback: Amazon | Barnes & Noble | Books-a-Million |IndieBound | SEE MORE RETAILERS
Order the eBook: Amazon | iBooks | Barnes & Noble | Blio | Books-a-Million | Google | Kobo
Enter the giveaway!
Visit the Rosemary Beach Club (
http://rosemarybeachclub.weebly.com/
) and enter to win one of ten signed copies of ONE MORE CHANCE, or enter via the rafflecopter below.
EMBED CODE: http://www.rafflecopter.com/rafl/display/7e0813e16/

rel="nofollow" data-raflid="7e0813e16" data-theme="classic" data-template="" id="rcwidget_ic08jvt5">a Rafflecopter giveaway