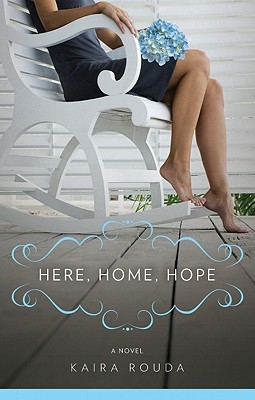 TITLE: Here, Home, Hope
AUTHOR: Kaira Rouda
Women's Fiction/Chick Lit
Release: May 1, 2011
Blurb:
Kelly Mills Johnson becomes restless in her thirty-ninth year. An appetite for more forces her to take stock of her middling middle-American existence and her neighbors' seemingly perfect lives. Her marriage to a successful attorney has settled into a comfortable routine, and being the mother of two adorable sons has been rewarding. But Kelly's own passions lie wasted. She eyes with envy the lives of her two best friends, Kathryn and Charlotte, both beautiful, successful businesswomen who seem to have it all. Kelly takes charge of her life, devising a midlife makeover plan.
*
National Indie Excellence Book Award for Chick-Lit (2011)
,
Writer's Digest Self-Published Book Award Nominee for Mainsteam/Literary Fiction (2011)
,
USA Best Book Awards for Fiction: Chick Lit/Women's Lit (2011)
Karessa's 4.5 star review:
"It's really a whole new feeling when you realize you're in charge of your life, your thoughts and your actions - or inactions"
Kelly Mills Johnson
Here, Home, Hope is a witty and empowering story that is focused on family, friends and love. We follow Kelly Mills Johnson as she embarks on the journey to change who she is and what she wants.
HERE:
In Here, we meet Kelly Mills Johnson, during a dental visit Kelly has an epiphany…she is going to re write who she is. With her husband being a partner at his law firm and their two boys away at summer camp, Kelly has a lot of free time on her hands. She is soon to find out what lies ahead.
HOME:
When an unexpected house guest arrives, Kelly is thrown into a whirlwind of struggle. Her friends are keeping secrets, a hateful women out to destroy her self confidence, and a troubled teen with an extreme illness, Kelly has no choice but to rekindle an old friendship that she abandoned long ago. She is soon to find out it was one of the best decisions she has ever made.
When Kelly is offered what could be the opportunity of a lifetime, will she take it?
HOPE:
With her future looking brighter than ever, Kelly is forced to put aside her own feelings for the sake of those that she cares about. When tragedy strikes one of her dearest friends, she must open her heart and her home in order to keep everyone together. Can she keep it together or will it fall apart.
I am giving this book a 4.5. Kaira Rouda puts real life on paper. I was able to relate to most of her characters in one way or another. I would recommend this book to anyone seeking a little inspiration in their life. It was funny and kept me guessing. Kaira's attention to detail is amazing. Overall, Here, Home, Hope is a really great read and I can't wait to see what comes next from Kaira Rouda.
Karessa's 4 star review of IN THE MIRROR by Kaira Rouda:
In The Mirror
By: Kaira Rouda
"We are still lovable even though we are different, look different."
Ralph Waldo Erikson
We are briefly introduced to Jennifer Benson in Here, Home, Hope. She is the owner of Clothes The Loop, a successful retail clothing store in Grandville, as a wife and mother, she has everything she could ever want. In The Mirror is an inspirational tale of hope. Jennifer has been diagnosed with a life threatening illness, after many months in the Shady Valley Treatment Center and having lost hope and feeling angry and alone as well as a figment of her former self, she begins to relive her past. When a past love comes back to town, will Jennifer be able to resist temptation or will she allow it to consume her? Can she keep her secret? While she lives in despair, her one true friend passes away in the treatment facility, the only solid connection she has left is gone. What will this do to her? Just when she needs it, Jennifer is released to go home to begin her new treatment, surrounded by her family and friends things are starting to look up. Is this the end or just the beginning?
I am giving this book a 4.
Once again Kaira Rouda did it for me.I have to admit, at first i was struggling to stay in this book. It was sad, i was sad. BUT, the further i read the more enthralled i became, i laughed, i cried (a lot),and i got mad.
I felt like i was right there with her, watching her experience all of these horrible things. But once again the hope and inspirational truth to this story came out.Through all of it, her amazing husband and kids, her odd and somewhat emotionally distant mother, her doting father, her self centered sister ( i didn't like her at first), and the psycho ex, i was completely wrapped up in it. However, I was left wanting at the end of this book. I felt that there was no closure. Does she live, does she die? What happens next? This book can definitely leave you hanging or you can choose your own ending.
Praise for Here, Home,
Hope
"Reading
Kaira Rouda is like getting together with one of your best friends - fun,
fast, and full of great advice! Here,
Home, Hope sparkles with humor and heart." – Claire Cook, bestselling author of Must
Love Dogs and Best Staged Plans




"I loved Kaira
Rouda's book. I love its irony and its courage and humor. . . . It's the
real thing."
– Jacquelyn Mitchard,
bestselling author of Still Summer and The Deep End of the Ocean




"Endearingly honest, consistently upbeat,
Here, Home, Hope
is an
inspiring read that left me feeling genuinely hopeful."
– Jenna
Blum, New York Times bestselling
author of Those Who Save Us and The Stormchasers, and one of Oprah's
Thirty Favorite Women Writers
"A warm, witty, and
engaging debut that had me laughing out loud. Rouda has created a lovable and
perceptive heroine who navigates her struggles with honesty and awe-inspiring
determination to succeed. A fun and totally satisfying read." – Amy Hatvany, author of Best
Kept Secret
"I found Kaira Rouda's
debut novel, Here,
Home, Hope, inspiring, empowering
and fun to read. You'll want to share it with the women you care about
in your life."
– Roma Downey,
actress/producer
Purchase Here, Home, Hope
Amazon:
http://www.amazon.com/Here-Home-Hope-Kaira-Rouda/dp/160832091X/ref=sr_1_1?ie=UTF8&qid=1394657203&sr=8-1&keywords=Here+home+hope
B&N:
http://www.barnesandnoble.com/w/here-home-hope-kaira-rouda/1100229617?ean=9781608320912
iTunes:
https://itunes.apple.com/us/artist/kaira-rouda/id434938550?mt=11#
About the Author:
Kaira Rouda is an Amazon #1 bestselling, multiple award-winning author of three women's fiction novels including HERE, HOME, HOPE, ALL THE DIFFERENCE and IN THE MIRROR.
Tule Publishing Group's Southern Born imprint is publishing her new contemporary romance series set on INDIGO ISLAND: WEEKEND WITH THE TYCOON, Book 1; LINES IN THE SAND, Book 2; and THE TROUBLE WITH CHRISTMAS, Book 3. Four more books in the series will be out in 2015.
Her nonfiction title, REAL YOU INCORPORATED: 8 Essentials for Women Entrepreneurs, continues to inspire women internationally.
She lives in Southern California with her husband and four almost-grown kids, and is at work on her next novel. Connect with her on Twitter, @KairaRouda, and on Facebook at
Kaira Rouda Books
. For more about Kaira and her books, please visit
wwww.KairaRouda.com
.