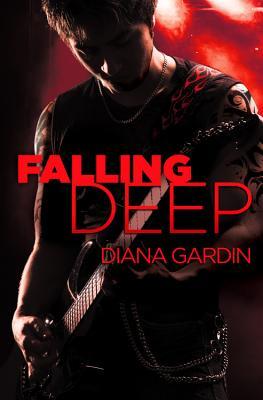 Title: FALLING DEEP
Author: Diana Gardin
Age: New Adult
Genre: Contemporary Romance
Publisher: Grand Central/Forever Yours
Scheduled to release: April 7, 2015
BLURB:
Reed Hopewell is a lot of things to a lot of people . . .
To his parents, he's the son who needs to get serious. To his friends, he's the player they all want to be. And to his fans, he's the hottest rocker in Charleston. But never has Reed been anyone's hero-until the night he finds Hope.
Hope Dawson can count the number of men she trusts on one hand. Definitely not the guys she goes out with or the stepfather who treats her like property. She'd be out of his house tomorrow if not for the need to protect her little sister. But when things at home go from bad to worse, Hope has to act fast-and Reed is the only person she can turn to . . .
SARAH'S 4 STAR REVIEW:
Falling Deep is the first book I have read by Diana Gardin and it definitely won't be my last. I am a huge fan of rockstar books and I must say I really enjoyed this one. I will surely go back and read the first book in this series to get a better understanding of Sam and Aston's relationship.
Reed Hopewell is a business man by day as this is what his parents think he should do with his life but at night and on the weekends he sings at local clubs because performing is his true passion in life. He is quite the ladies man and has no intention of settling down until he lays eyes on Hope, the most beautiful girl he has ever seen while at the local club. He ends up having to save Hope from being attacked by the guy she is on a date with and he is very intrigued by her. Will Hope by the one to finally get Reed to settle down and want to be in a committed relationship?
Hope Dawson spends lots of nights at the club working for her stepfather as an escort. She absolutely hates her job but in order to protect her sister Violet from their abusive mother she has no other choice. She is very intrigued by Reed but she knows that in order to keep the peace at home she must remain single as part of her job. When things in her life take a turn for the worse she runs to the one guy she has been trying to stay away from. Things start to get serious between Reed and Hope the more time they spend together and Hope finally feels like she can open up to him about her life. Will Hope finally be able to open up to Reed and reveal the secret she has been trying to keep hidden? Will he stick around when he finds out the secret Hope is keeping from him?
I loved the connection between Reed and Hope. These two went through many ups and downs throughout the story but always seemed to find their way back to one another. The secondary characters added lots of depth to the storyline. I look forward to reading more from Ms. Gardin in the future.
GIVEAWAY:
(3) FALLING DEEP ebooks, (1) Signed copy, (1) Nelson Island swag pack and a $10 Amazon gift card
a Rafflecopter giveaway
Link:
http://www.rafflecopter.com/rafl/display/4a501259504/?
About the author:
Diana is the author of the YA novel COLORBLIND, and the NA Contemporary Romance novels OUT OF THE ASHES, SETTLING ASHES, AND WANTING FOREVER. All are available for purchase now. Diana is a Virginia girl living In South Carolina, and her beloved home in the South is the backdrop for all of her novels. She adores writing about Southern girls and boys finding their way in and out of love. She's married to the love of her life, and they have two fabulous/crazy children under the age of five.